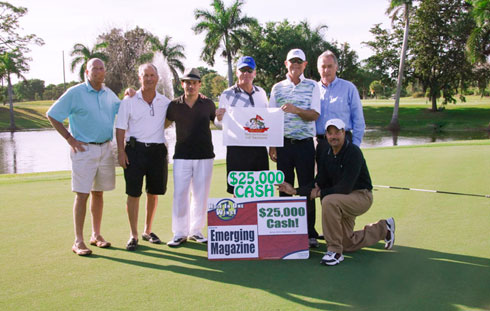 L-R Ian Seitel, Les Logan, Said Faraj- Actor/Producer/Director, Graeme Pentland, Hole-in-One winner Ken Larsen, Humane Society of Broward County Chairman of the Board Gerry Weber. Kneeling in front, Stefan DuBois of Emerging Magazine.



FORT LAUDERDALE, FL – On a magnificent early April day, the animals at the Humane Society of Broward County were the winners, when the Men's Big Dog Golf Tournament took place at the Fort Lauderdale Country Club. Event chairs Melody and Ali Saleh and Cherie and John Marshall are thrilled to announce that $41,000 was raised for the shelter at this inaugural event.

Upon arrival golfers were greeted by Hollywood actor/director/producer Said Faraj who came from Los Angeles to show his support for the event. Golfers enjoyed participating in a scramble format and for a donation PGA Pro and Director of Golf at Fort Lauderdale Country Club Mark VanDyck would drive off the tee for the four-some. The highlight of the day was when Ken Larsen sunk a hole-in-one on the Emerging Magazine sponsored 12th hole for 182 yards winning $25,000! Ken was ecstatic and said "in the 57 years I've been golfing, I've had never had such an experience." His team members are also thrilled, since he is sharing the prize with them and he is donating a portion of the prize back to the shelter.

Along the course players sampled drinks from Bimini Boatyard Bar & Grill, Blue Martini and Goal Line Sports Bar & Grill and at the end of the day Pooch Hooch from Bimini Boatyard Bar & Grill was selected as the "Best in Show Cocktail." After playing the 18 holes, everyone enjoyed a BBQ dinner and BIG 105.9's Dave Lamont auctioned off several fabulous items including a Maserati for a weekend, a Miami Dolphins suite package and golf at Frederica.

The first place winning four-some who won fabulous PING products and bragging rights of being the BIG DOG champions and a ceramic Champion cup to prove it are BB&T Sponsor: Keith Arnold, Adam Hawkins, Joe Li Volsi, Russ Santiago. The Second Place four-some was Poulin Sponsor: Ken Larsen, Ian Seitel, Graeme Pentland, and Les Logan; and third place went to Team Hyvac Mechanical Services: Jack Hamilton, Curtis Easton, Joe Kippenberger, and Chris Distasio.

Longest drive winner was Peter Tierny; longest putt was Gerry Dagen; and Jordan Gumberg hit his ball closest to the pin. These golfers were also awarded fabulous prizes from PING.

Sponsors dedicated to making this tournament a success are: Emerging Magazine, AutoNation ®, Divot Happens® by: Melodious Enterprises; Pet Pals (Meldeau & Collins Families); Ingrid & Brian Poulin; BB&T; Team National; Raymond James ®; Bimini Boatyard Bar & Grill; Blue Martini; Gold Coast Magazine; Broward Design and Architectural Review, CopySource Incorporated and Big 105.9.



Read more...